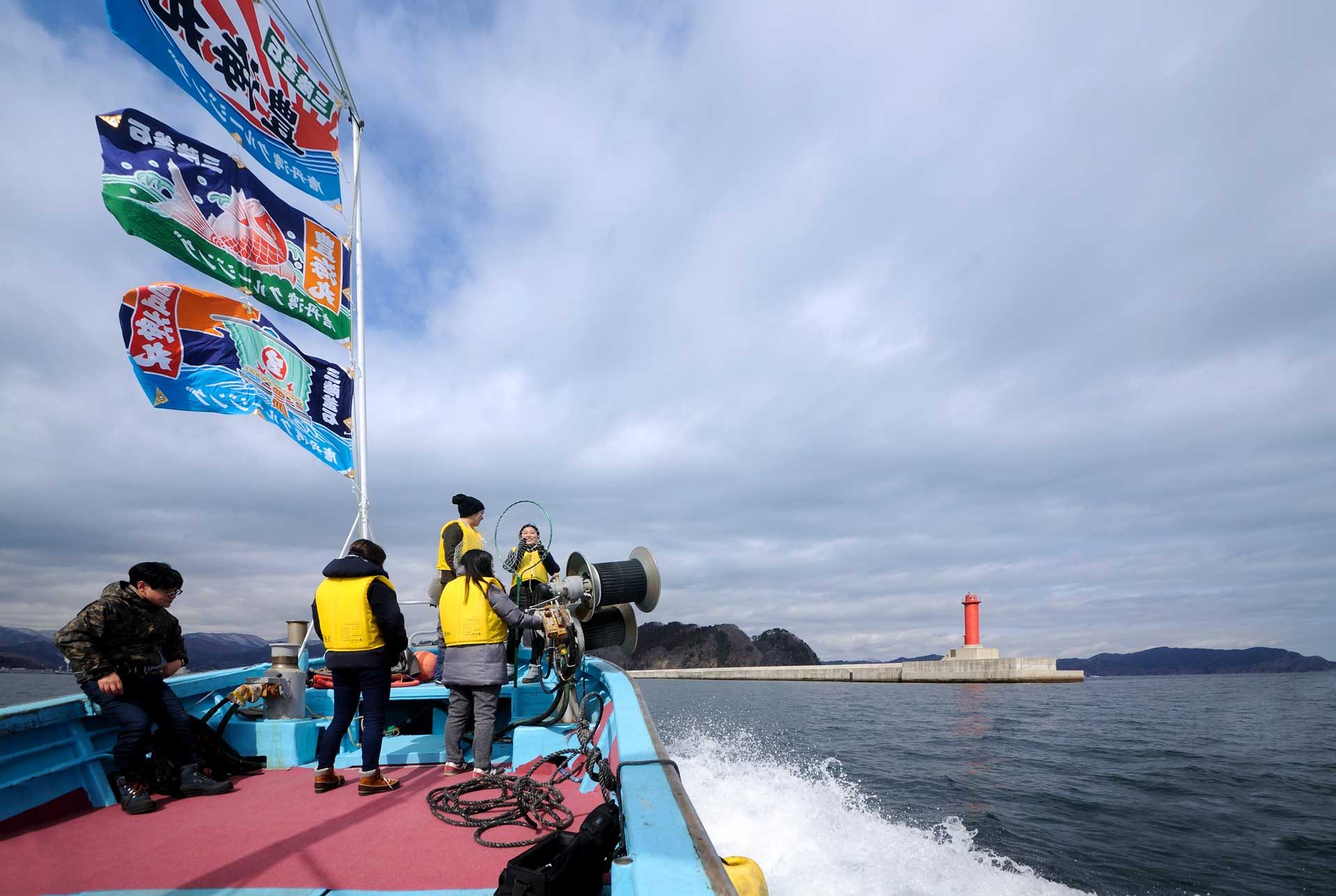 From Kamaishi Bay, you'll see the most beautiful sea ever.
On a small fishing-boat, you will go to special places in Kamaishi city.
We will depart for Kamaishi Bay from the Uogashi Terrace, getting on a small fishing-boat. On the way, from the boat, you will see one aspect of Kamaishi Bay, as an industrial port.
Also, the Sanriku Rias coast and the big Buddhist Goddess of Mercy called Kamaishi Daikannon will appear in front of you. We will explore unexplored sites that one can visit only by boat including Ozaki Shrine's interior shrine and Aodashihama Beach.
※ You can't land on the active season for bears.
In addition, the boat will get close to the tsunami breakwaters which hold the Guinness world record for the deepest breakwaters (63meters). You will appreciate how important the breakwaters are to protect the town.
Who can join

Students and adults
*Preschool children cannot join
*Anyone who can ride by themselves
(We apologize for not supporting wheelchair users and those on crutches.)

Fee

3,800 yen (with tax) per person

Itinerary

Duration of tour: Approx. 90-120 minutes
(Make sure to check in at the reception of Uogasi Terrasse 15 minutes prior to the tour.)

1:45 pm Orientation
2:00 pm the cruise tour starts and sails through 8 sites including the big Buddhist goddess of mercy, Aodashihama Beach, and the world famous tsunami breakwaters
Approx.3:15 pm/4pm Return to the port

Things you need to bring

*Clothes that are comfortable to move around in
*Shoes (no sandals)
*Raincoat / waterproofs
*Beverages
(We recommend you bring a jacket or windbreaker)

Where to meet up

Place:Uogashi Terrace
Time:1:45pm
Parking spaces are available

In the event of rain

Showers:The tour will go ahead.
Heavy rain:The tour will be cancelled.

Capacity

2 - 11 people (Minimum charger:two people)
※Ride-share tour currently unavailavle because of COVID-19.

Notification

If you are late

Please make sure to contact us if you will be late so that we can keep a space reserved for you. Otherwise, we might give your place to another passenger. Thank you for your understanding.


Customer Cancellations

Your application will be automatically cancelled if you don't arrive 15 minutes before departure without contacting us. You will be charged a cancellation fee.


Cancellation due to Force Majeure

We will let you know ahead of time if the tour is canceled due to bad weather conditions. A sudden cancellation of the cruise is possible in the event of strong winds. We won't charge you the cancellation fee for force majeure. We appreciate your understanding.


Accessibility

Unfortunately, we cannot offer the tour to wheelchair users and those on crutches or pre-school children as we do not have the facilities onboard. The captain reserves the right to refuse entry to people who pose a risk. Thank you for understanding.


How to book a tour and procedure on the day

1. Registration:
Please fill in a registration form on our website(under construction) or call us.
2.Registration completed:
Our reception desk will call you after checking the date, weather, and the schedule of the captain.
3.On the day of the tour:
Please come to the reception at Uogasi Terrace ( at least 15 minutes before departure).
4.Check-in and Payment:
Please finish your check-in and payment at the reception.
5.Introduction:
We will give you directions to the departure point after your payment.

About payment

We accept payment onsite in cash, credit, QR code payment, or invoice.

About the date of reservation

Reservation is possible from 2 days to one month before the desired date of participation

Our reception opening hours

9am - 5pm (The reception desk of Uogashi Terrace)

Regular closing day

Monday

Business Operator

Address
3-3 Uogashi, Kamaishi, Iwate 026-0012
Business hours
9am-5pm
Regular holiday
Monday and New Year holidays
Access
Train: 25 minutes walk from Kamaishi Station of JR Kamaishi Line /Sanriku Railway Rias Line
Bus: 3 minutes walk from "Shieibiru mae(Municipal Buidling)" bus station of Iwate-Ken Kotsu(Iwate Prefectural Transportation)
Car: 10 minutes from "Kamaishi Chuo IC" (The Center of Kamaishi junction) of Sanriku Expressway
URL
https://uogashi-terrace.jp/
https://www.facebook.com/uogashiterrace/

Registration
Contact us

TEL・FAX 0193-27-5566

uogashi@dmo-kamaishi.com